Design by John D. Clair
Published by AEG
2 – 4 Players, 45 minutes – 1 hour
Review by Greg J. Schloesser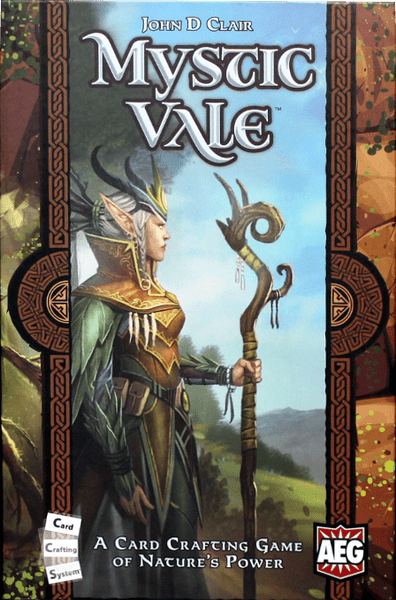 I appreciate originality in game design. Most games will use existing mechanisms and combine them in various fashions in order to produce a game that hopefully feels somewhat fresh. Sometimes, a designer will tinker with an existing mechanism, giving it a new twist or facet that can also make the overall game feel a bit different from its predecessors. It is a true rarity when a designer invents something brand new, as this is usually a breath of fresh air. Of course, this new mechanism cannot stand on its own; it must be surrounded by a fun and entertaining game.
Fortunately, that is the case with John D. Clair's Mystic Vale.
So what is this clever new mechanism? It is known as the "Card Crafting System" and allows cards to be physically changed by adding new features and advancements to them. It is a dramatic addition to the familiar deck building genre.
In Mystic Vale, the tall cards are inserted into card sleeves. The basic cards have their powers printed on one-third of the card (top, middle or bottom). Card advancements are printed cards of the same size, but these new cards have a transparent background. As with the basic starting cards, a small portion of this transparent card depicts the advancement, which is also depicted on only one-third of the card. These advancement cards are inserted into the card sleeves over the basic card. However, any previous advancement—including those on the basic card—cannot be obscured. In this fashion, a card can be upgraded two times (three if originally empty) if cards are acquired that have the advancements printed in the proper places. With nearly one hundred different advancement cards available—more with expansions—this makes for a seemingly infinite number of ways to construct a card. Brilliant.
Before describing the game, a word about the theme is in order. As one could surmise from the name, the game has a fantasy setting wherein players assume the roles of "druidic clans attempting to restore the cursed lands to their former vitality." Card advancements represent new life and vitality for the land, which is helpful in the restoration process. The goal is to acquire and properly assemble these advancements, with the acquisition of even more powerful "Vale" cards adding to the restoration.
Continue reading